The Southern Tennis Escape annual tennis tournament originated as a company-sponsored event in the early 1990's known as the Worldspan Tennis Invitational. Initially, a few Worldspan employees organized and ran local round robin tournaments, and one big annual tournament (similar to a company golf event) for employees of Worldspan and its affiliates. Over the years, the tournament committee members changed, Worldspan was sold to Travelport, and as of 2009 the name was changed to the Southern Tennis Escape.
Today, Michael Doyle continues to run the tournament each year on the first weekend of March. We're often asked why we continue despite the fact that we're a not-for-profit and the tournament is a major undertaking that requires months and hours of work. And our response is always that each and every year in March, 170+ players come together and tell us, "This is the best and only tennis tournament I attend"; "It's our adult spring break"; and "Never stop running this event!" So…. we keep on keeping on!
The Southern Tennis Escape is basically a reason to get away, play competitive and fun tennis with a fantastic group of people. Want to escape? Come and join us!
Please contact us if you have any questions or comments about the tournament.
Michael Doyle – mddoyle@yahoo.com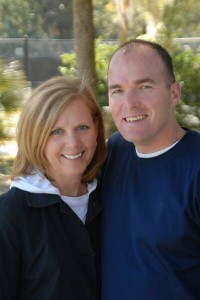 Beth Warren helped run the Southern Tennis Escape for over 15 years. Her dedication to the tournament made it a huge success. Beth's expertise in how to run a successful tournament is greatly missed!
Also, a huge thank you to John Steen for all the years of work with the tournament!